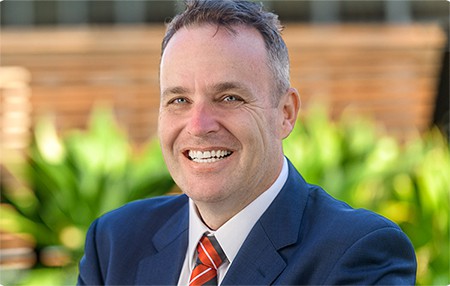 Greetings and welcome to the Elders Real Estate Leadership Retreat, in beautiful Hamilton Island!
It's been a big 12 months for Elders Real Estate, opening 12 prominent new offices (within the last 9 months alone), in addition to recruiting some high profile agents. This is on top of another positive sales year in challenging markets across the country. Collectively we transacted over 9,000 properties totalling over $5 billion – an incredible achievement from all involved.
These results signify the hard work you have all put in and I'd like to take this opportunity to thank you for your tireless efforts and continual support of the Elders Real Estate brand, and of our corporate team. It's been a strategic venture to grow the Elders Real Estate brand through various initiatives, and I'm pleased with how these have come to fruition over the past few years, and equally as excited for what's to come. It's no surprise to see the Elders Real Estate brand in an upward trajectory as one of the most sought brands in the industry.
This Leadership Retreat is all about you and improving on, what in most cases, is already a winning formula. We hope you take a lot away from the amazing speakers we have presenting, but most of all, enjoy yourselves! The cocktail function and buggy rally should prove to be great team bonding sessions.
Once again many thanks for your efforts and support over the last 12 months. I'm excited for what the next 12 months and beyond will bring.
Best wishes and enjoy the Elders Real Estate Leadership Retreat.
Andrew Brien


National Head of Residential Real Estate
P.S. be sure to check out and share the social media image below. You know I'm big on all things social!
Did you even go to Hamilton Island if it's not on social media? Of course not!
Keep everyone in the loop of your whereabouts by sharing one of the images below (or both) to Facebook, Instagram or LinkedIn. Be sure to accompany your social post with our official hashtags, #hamotime #eldersrealestate
Need some inspiration for your social media post? We've got you covered…
I'm checking in at Elders Real Estate's 2019 Leadership Retreat in Hamilton Island! #hamotime #eldersrealestate
To save to your phone, gently touch the desired image for a few seconds (until options appear) then select save image.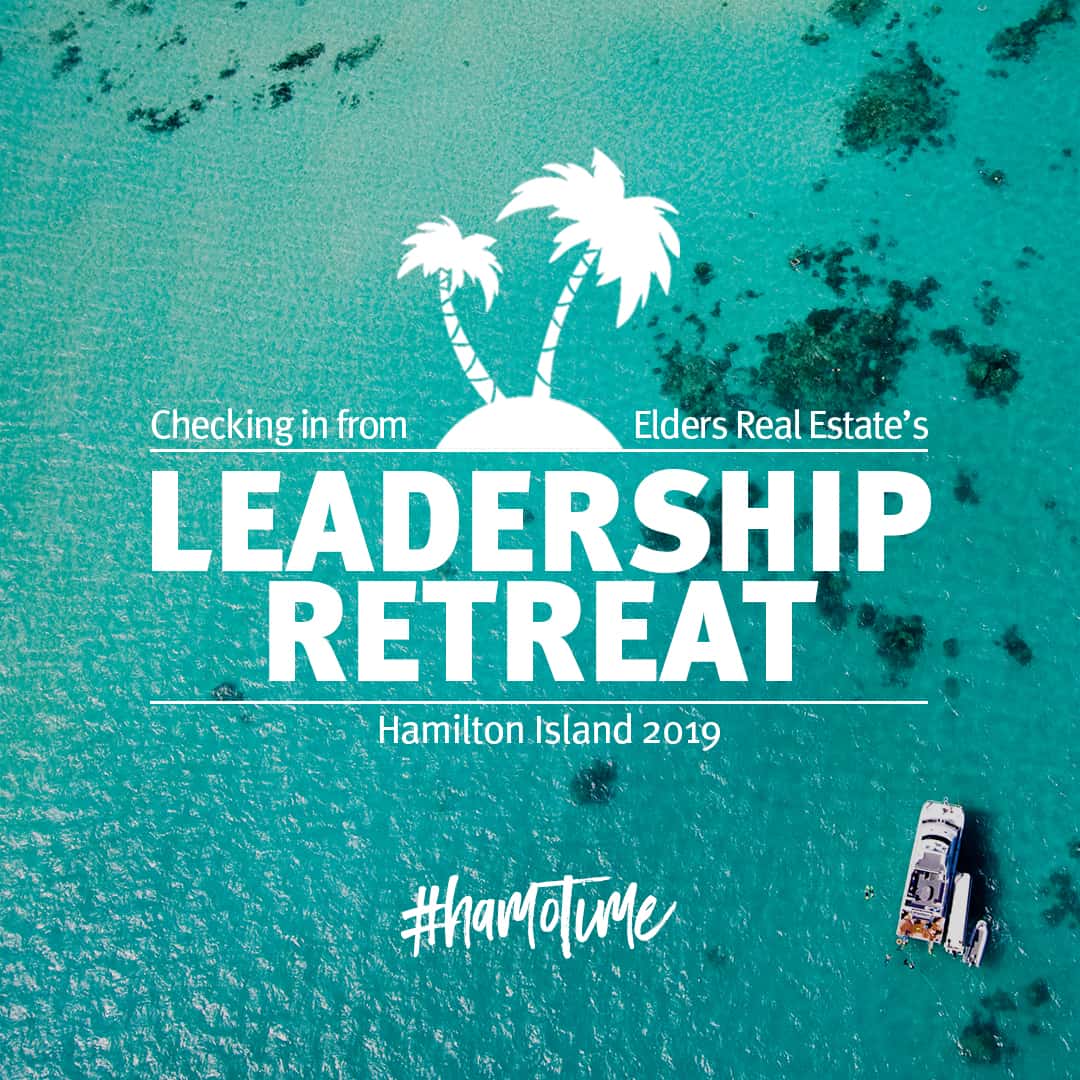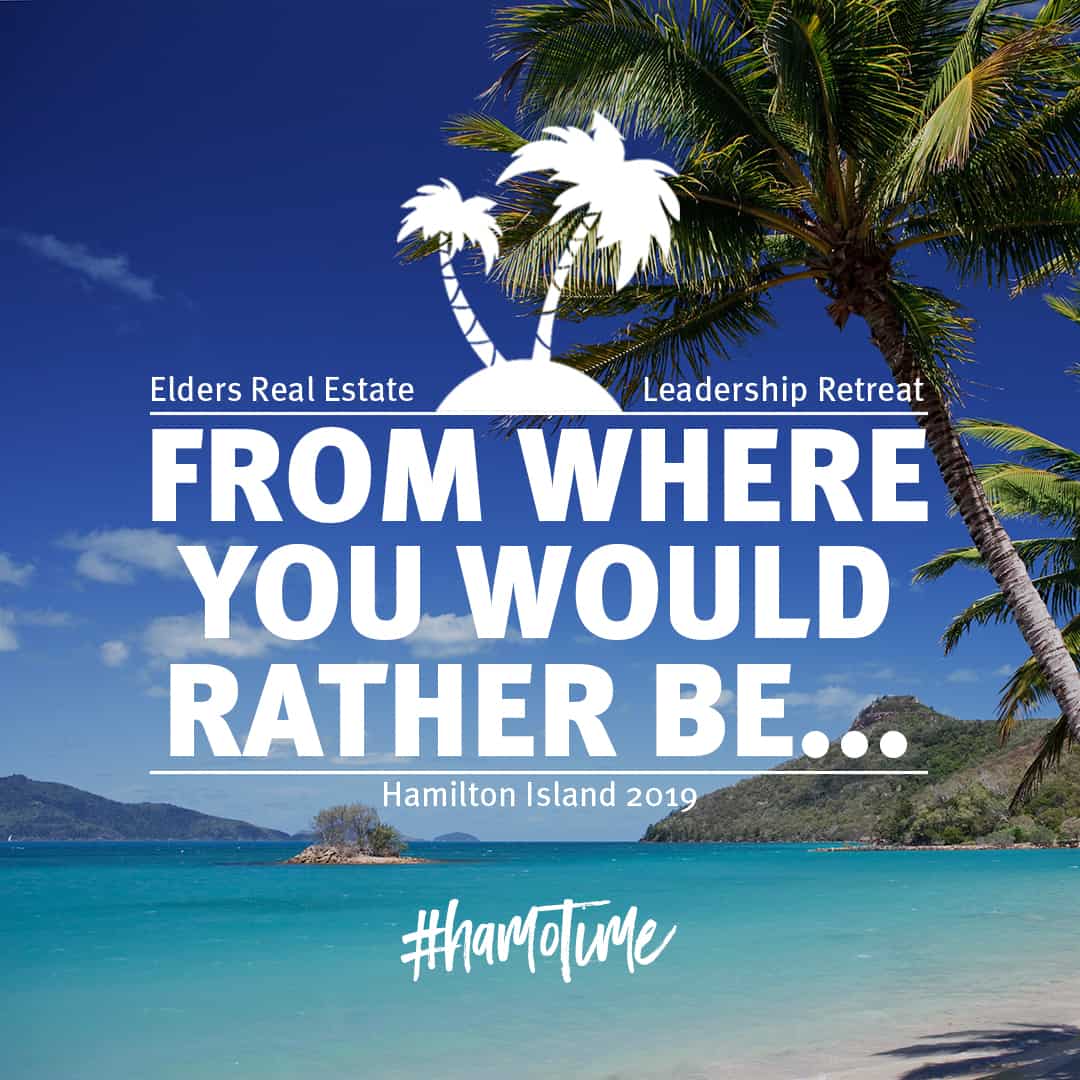 Map + Leadership Retreat Itinerary
MONDAY, 12 AUGUST 2019
8.00am (Business Owners Only): Meet in the foyer of the Reef View Hotel for transfers to the Yacht Club
8.15am to 8.30am: Arrive Yacht Club, register for Leadership Retreat and be seated in the Ketch & Cutter rooms
8.30am to 9.30am: Business Owner Panel Session
9.00am (Rest of Attendees): Meet in the foyer of the Reef View Hotel for transfers to the Yacht Club
9.15am to 9.30am: Arrive Yacht Club, register for Leadership Retreat and make your way in to the Ketch & Cutter rooms
9.30am: Welcome and Conference Open – Chris Helder
11.00am to 11.15am: MORNING TEA
11.15am: Steve Carroll
12.15pm: Monique Craft
12.45pm to 1.30pm: LUNCH
1.30pm: Matt Church
2.30pm to 2.45pm: AFTERNOON TEA
2.45pm Shared Knowledge/Networking
3.45pm Kurt Fearnley
4.45pm CONFERENCE CLOSE
4.45pm to 5.00pm Transfers back to Reef View Hotel
COCKTAIL FUNCTION – Outrigger Marquee, Catseye Beach
6.30pm to 10.30pm
Walking distance from Reef View Hotel
Dress Code: Cocktail / Smart Casual
TUESDAY, 13 AUGUST 2019 – HAMILTON ISLAND BUGGY RALLY
Objective: To navigate your buggy around the island in a scavenger hunt type activity
Overview: A fun team building exercise and a great way to see the island. You will be required to complete various missions that include GPS checkpoints, photo and video challenges & text-based questions in teams of 4 around the island.
9.00am: Meet at Reef View lawns for briefing
9.30am to 11.00am: Buggy rally commences, then finishes by 11am for those with early flights
11.00am: LEADERSHIP RETREAT CONCLUDES – ENJOY HAMILTON ISLAND!