General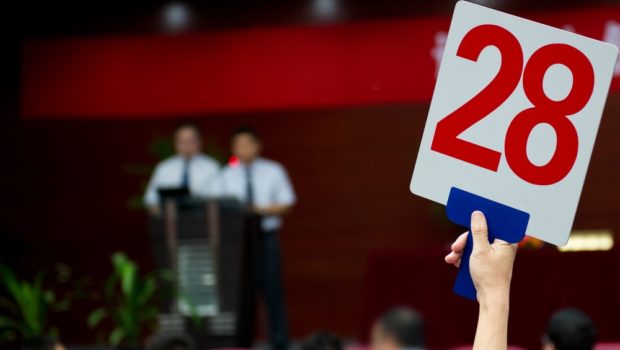 Published on March 17th, 2017
Three auction terms every first-timer needs to understand
The auction market is heating up. CoreLogic RP Data recorded the most auctions in a week so far this year on February 27, with more than 3,300 properties going up for sale. Of those, 78.6 per cent went on to sell. 
Clearly, people are flocking to auctions to secure great residential property. But for the uninitiated, it can be an affair fraught with tension and terminology that is difficult to deal with. To this end, here's a quick glossary of auction terms that first-timers should know before they bid.
1) Vendor bid
This term does what it says on the tin – it is when the person selling the house places a bid on it at auction. Which seems counter-intuitive, but there is a clear strategy at work here. The vendor bid is often used to hurry up the bidding, or to move the process closer to reserve.
It should also be noted that the vendor themselves will not place the bid – the auctioneer will announce and place the bid on their behalf.
Legislation differs in each state and territory (for example, in SA the vendor can only bid three times). But when you see one (the auctioneer always has to announce it), you could be seeing an auction that is moving slowly – and perhaps in your favour.
2) Reserve price
This is the point at which an auction goes live. If bids pass the reserve, the auctioneer will say as much, and the highest bid from this point will win the real estate for sale. Prior to the auction, reserve prices are often unannounced.
When bids do not reach the reserve, the property does not change hands. However, the auctioneer may consult with the vendor to see if they want to sell at a lower price, or negotiate with the highest bidder.
3) Passed in
There's often a second chance to secure a great deal.
This occurs when real estate does not pass reserve – it is effectively withdrawn from auction, and the bids close. However, the person with the highest bid prior to the property passing in may gain rights to negotiate with the vendor for a private transaction.
It highlights the value of bidding, even when an auction moves slowly – there's often a second chance to secure a great deal.
These are just three of the basics that you'll encounter the first time you go to an auction. Whether you are buying or selling real estate, it will still be a daunting time. If you need, a professional agent can work on your behalf, bidding and negotiating. Contact the team at Elders Real Estate to find out more.