General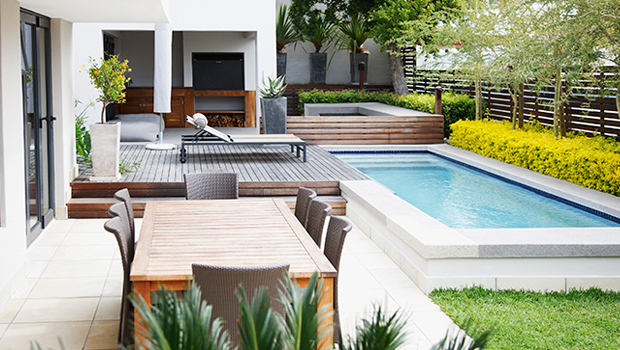 Published on February 9th, 2018
Outdoor furniture trends for 2018
If Australia's famous for anything, it's our long languid summers. No wonder, then, that outdoor spaces are such a big part of our lives. Our outdoor rooms form as much a part of our homes as our indoor ones do, even when the temperature drops.

Such an important space deserves as much love and attention as we give to our indoors. Whether you're dressing your home for sale or simply making sure that you enjoy the Australian sunshine, a thoughtfully decorated outdoors is sure to enhance the mood.

Today's trends in outdoor furniture see a resurgence of natural materials, retro style and soothing colours. Looks that were once indoor-only are emerging into the sunlight, with a wider range of styles on display.

Get flexible with modular lounges and nested tables
Outdoor spaces are becoming softer and more organic, just like the lounge indoors. On decks, you'll find modular lounges rather than plastic dining settings, with rugs and ottomans to soften the scene.

As we use our decks for relaxing as well as dining, spaces are arranged to encourage relaxation. In a blending of indoor and outdoor style, we're even seeing retro nested tables, redolent of your grandmother's formal lounge, invade the outdoor space.

Modular shapes can be arranged in different ways to create an inviting space for the family or separated out for extra guests. Create different zones within the decked area by arranging parts of the modular lounge around focal points like coffee tables or fire pits. Don't be afraid of using rugs, blankets and throw pillows, especially as the weather gets cooler, to add a touch of cosy warmth.

Embrace the natural look for dining sets
Our outdoor dining sets, too, are reflecting an aesthetic that was once associated with indoor pieces only. Tables and chairs are moving away from slick, high-gloss finishes and embracing the natural look. Textures pay homage to the retro trend, with wicker, rattan and jutes on display. You'll even see mosaic make a comeback.

Differing hues of timber and raw, imperfect finishes are big, as are Scandinavian-inspired settings. Timber that's designed to weather over time is the perfect match for outside spaces, working with the natural environment around it.

In fact, the imperfect look is carried on past the finishes and into the settings themselves: mismatched chairs are an edgy look that fits ideally within the less formal outdoor space.

Get creative with poolside settings
The quintessential Australian swimming pool is nothing without a set of poolside chairs gracing the side. Today's pools, though, are just as likely to be accessorised with bench seating. It's ideal for smaller areas, as it maximises space, and can be arranged to create horizontal or vertical lines that please the eye.

Bar settings are also hot property in small spaces, taking up less room than a full table and easily moved aside. For even less visual impact, try wire furniture that lets the light flow right through.

Add pops of colour
Those natural materials and irregular finishes create a soothing palette, but try adding a pop of colour to make everyone sit up. Brightly coloured cushions and throws, often in bold geometric patterns, can be scatted on those modular couches. Try a bean bag or two on the deck for a playful touch. You'll have to invest in some sturdy outdoor fabrics, but the range is expanding all the time so there'll always be something to suit your taste.

An outdoor space that you want to spend time in is the easiest and cheapest way to extend your living area. It's worth spending some time and a little bit of money getting it how you want it so you can enjoy it all year round.