General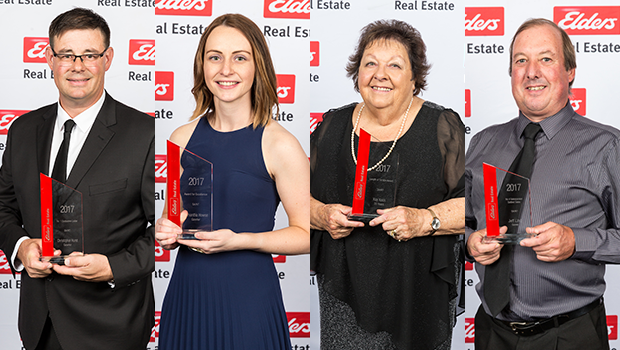 Published on April 5th, 2018
Gawler named top office in SA/NT Awards
The South Australia/Northern Territory Awards took place last month, with the Gawler office taking out the coveted award for number one office SA/NT. They were also ranked 6th nationally.

Sales Manager Christopher Hurst won Top Salesperson both for Settled Sales and Gross Commission, and came 3rd nationally for both.

It's the tenth time Christopher's taken out the top honours, testifying to his solid reputation and local roots. He's been working as a real estate agent for 24 years, so his clients are in very experienced hands.

Christopher was born and bred in Gawler, and his local knowledge has contributed to his string of awards.

"I know the market very well, I have good product knowledge, and I've built a reputation over a long time," he says.

Gawler and its surrounding area is an affordable spot for home buyers, with a median house price of $322,500. That's up from $255,000 in February 2015, indicating strong steady growth in the area after a decade of flattened sales.

"The Edinburgh Defence Base means there's lots of defence personnel in the area," explains Christopher about the demand for housing. A lot of his clients, though, are looking for family homes from which they can commute to the city.

"Primarily we sell residential homes", Christopher says, "as well as small acreages up to around ten acres."

Gawler sits around 40km north of the Adelaide CBD, close enough for people to work in the city but still offering an affordable price point.

The Gawler office has a long and proud history of serving the area. It's been in the same location since 1958, and Elders have had the franchise since 1991. "That was my father and Danny Dare" the current principal, shares Christopher. With two other Dares still in the office as well, Elders Gawler has a family business vibe in a bustling commercial office of 13 staff.

"We have a very stable team", Christopher explains. "We don't swap and change around, and people like to stay."

That means that Elders Gawler is full of people who love their jobs, know the local area and are committed to their community.

No wonder it's a multi award winner! Congratulations again to Elders Gawler and Christopher Hurst on their achievements.