General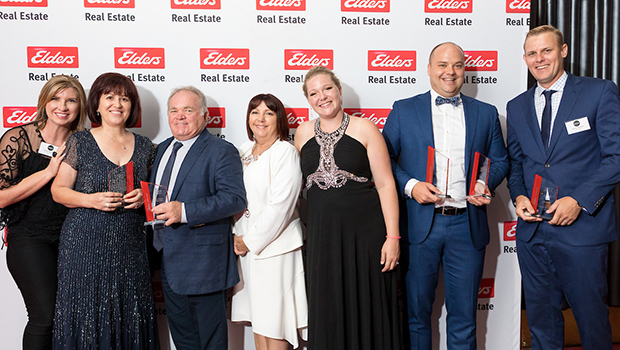 Published on April 20th, 2018
Shailer Park shines in Queensland Awards
Elders Shailer Park took out a number of awards at the Elders Real Estate Queensland and Northern NSW Annual Awards. Not only were they the number one agency in Queensland and Northern NSW, but also the number one agency for sales nationally.

The Principal of the Shailer Park Agency, Nathan Strudwick, also took out a number of personal honours. He boasts the highest number of settled sales of any Principal within Australia, making him the number one agent both within the Queensland/Northern NSW area and nationally.

Nathan is a respected leader and mentor throughout the Elders network, even speaking at the South Australian conference. His topic was "Someone has to be number one – why isn't it you?" and looked at why some agents perform so much better than others even with the same benefits of the Elders brand. Nathan believes in the power of inner motivation and personal drive as pathways to success.

"The way that real estate has changed," he says, "means that it comes down to people's commitment to customer service. If you put the client first, people tell other people."

About 80% of Nathan's clients are friends and family members of previous clients, standing as a testament to his own excellent reputation. Although he's only been an agent for five years, Nathan has gone from strength to strength. His personal sales growth in the past year is a whopping 36%, and he's taken the office along with him.

Nathan is the Principal of the entire office, working with three business partners, all of whom are locals. The office has grown steadily in both sales and properties under management, year after year.

He also treats real estate as a long term business. "If you have the client's needs and goals as your goals, you'll always have a great relationship with those clients", Nathan says. "And long term goals show. You can't be in it for a quick buck."

Nathan recognised the corporate Elders team for their innovative marketing approach and the brand refresh that's being rolled out across 2018. "We love it," he said.

"Elders is a very honest brand, it's a brand of longevity, it resonates with people. It's a trusted brand in the Australian community. The refresh showcases that we're a metropolitan brand as well as having rural experience."

Shailer Park is a unique and diverse market place in the south side of Brisbane. Buyers are seeking properties anywhere from those suitable for first home buyers, all the way to luxury multi-million dollar lifestyle properties.

"We stretch from Rochedale to Mt Cotton, so we sell everything. We've got a lot of experience in acreage, and backing from Elders in the rural sector, but there are also a lot of executive buyers around the private schools in particular."

Congratulations to Nathan and the Shailer Park team!