General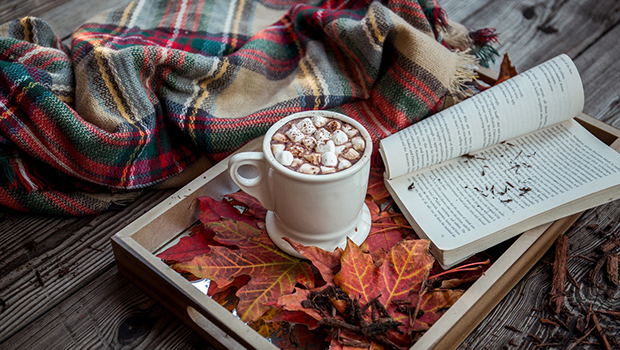 Published on May 7th, 2018
Autumnal entertaining: how to keep your guests cosy when the temperature drops
Seeing your breath in the morning when you duck out to grab the paper? Maybe you've even pulled your electric blankets out from the cupboard.
That's right, it's May and Autumn is well and truly here. Though tropical North Queensland may not feel this seasonal swing as rapidly as urban Melbourne or chilly Hobart, the weather's changing across the country.
Gone are the long summer evenings outside on the lawn, but does that mean you have to give up entertaining? Not with our autumn entertaining tips!
OUTSIDE
Outdoor entertaining doesn't have to be limited to summertime: here's how to use your garden year round.
Layer up
You may already be piling on the clothes, but dressing your outdoor areas can also help beat the chill.
Line outside seating with throw rugs, and move cushions outside for a cosy nest.
If you've got a hammock, it doesn't need to be rolled up just yet. Add some textured blankets, especially of the woollen variety if you have them, and retain that tranquil space.
Cover up
If you have a pergola or verandah that you intend to continue to utilise, see if you can enclose the sides to create an all-seasons space. This will help trap in heat, allow guests to dodge sideways rain and offer protection from winds.
Options include retractable blinds, café blinds, roll-down awnings and plantation shutters on tracks.
Heat it up
It's not just dinners that can sizzle outside. Think of a heating solution for your outdoor space.
There are more options than ever before now – chimineas can be a wonderfully versatile addition to a patio. They can keep you warm and even come with accessories, such as pizza trays, so you can use them as an oven too.
Free-standing gas heaters are another great option, as are fire pits. A fire pit can be a mesmerising feature to gather around and lose time, out in the Autumnal air.
If you are feeling ultra-inspired, consider building your own bricked or free-standing fireplace outdoors.
You may need to use a contractor for a complete build and installation, especially for the installation and integration of the flue.
INSIDE
Outside spaces aside, it's still rewarding to create enticing and relaxing nooks inside, that are more appealing than ever once the weather turns cool.
Make the most of autumnal colour changes by using window views as a focal point. Shift furniture around if you need to, or bring in soft furnishings to echo the reds and oranges outside. Who needs a television when you have vibrant-hued falling leaves?
Fan the flames
Will this be the winter to install your own indoor fire solution? If you don't already have one, do the research into gas log fires, pot-belly fires, wood-burning fireplaces and more. The flicker of flames can add a frisson to your entertaining, and make guests feel welcomed into your cosy cocoon.
Not all are suited to each property and you may already be restricted by the kind of home you have. Also consider the energy efficiency of your chosen fireplace. It may be that you need to weigh up gas prices versus the cost of wood per tonne.
Whatever you choose, though, think of it as an investment – into comfy nights and ambience.
Create intimate configurations
With daylight savings done with for a while and shorter days, it may be ideal to stay in a little more. Perhaps opt for making a real occasion of the Autumn weather and send out invites for a night in of games.
When was the last time you played Monopoly with some spiced hot drinks and warm attire? And did someone say hot chocolate fountain?
Whatever the occasion, cooler weather calls for smaller seating configurations. Create conversation islands by moving chairs around smaller tables, closing doors and using screens. When it's dark outside and warm indoors, these cosy circles will wrap your guests in cosiness.
You only need have a look online at property listing photographs heading into these cooler months to be inspired by autumnal vibes. Get motivated and look to your own spaces to see where you can better embrace the weather.