People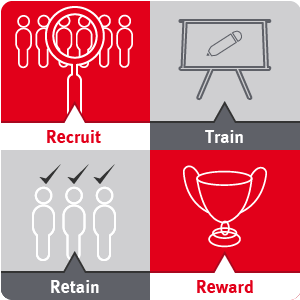 Elders Real Estate understands that franchisees will need the best people to work for them. We take pride in recognising that staff are the key to any business, and as such, are ready and willing to help when it comes to the four pillars of recruiting, training, retaining and rewarding any individuals that fall under the Elders Real Estate umbrella.
Recruit
Finding the best and brightest that Australia has to offer is no mean feat, and the process is compounded as the job market becomes ever-more competitive. To that end, your franchise will need a recruitment strategy that is effective yet simple to put in place – that's exactly what Elders Real Estate can offer.
Our strategy will provide you with everything you need to find both new and experienced staff. We can provide:
Scripts and a broken down dialogue for day to day use.
Ongoing development of a database of potential employees.
A contact person within Elders Real Estate.
Help with prospecting and initiatives to make the process easier.
Our Franchise Managers will be ready and available to assist you throughout the recruitment process, providing hands on support which can help your business thrive.
Train
Finding the right staff is one thing, but getting them fit and ready for your business is another. Fortunately, we're ready to help here too.
Our training programmes are thorough enough to get any new staff up to par. We provide fast, effective team-oriented training in the following areas:
Ongoing sales, property management and administration training
Industry best practices and how to abide by them
Progressive coaching and mentoring from one of our Franchise Managers
Marketing literature and presentation materials
Technology and internal resources to assist in training
Building brand awareness and dealing with referral business
Retain
Ongoing recruitment is incredibly important if your business is to operate at exemplary levels. However, it will all be for nothing if you don't retain any employees who are performing well.
Our support services will provide you with the knowledge and help required to ensure that key personnel are kept hold of across the critical areas of your business. Our support mixed with a robust recruitment process can give you all the tools necessary to keep hold of the people that make your business tick.
Reward
A big step towards better employee retention is ensuring that their efforts are highlighted effectively. With both state and national awards up for grabs, you can rest assured that any high performing staff will be rewarded and their achievements recognised by peers from across the country.
We also have our Elite Performers Club for the cream of the crop from the Elders Real Estate network. Any individuals that set extraordinary standards for their work are rewarded with special events reserved for those at the very top of their game.