Technology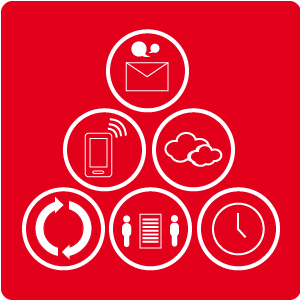 Technology is now ingrained in nearly all facets of modern business. Many enterprises will have to leverage some form of digital innovation in the pursuit of success, and things are no different in property.
We at Elders Real Estate have recognised such tech trends and have looked to act on them. We have two solutions that can help our franchise owners solve their business issues and unlock more profitability:
Elders Unify
Elders' intranet site, Unify, is a powerful collaboration platform built and driven by WordPress, with Google integration. At its core Unify provides our group with a business grade, easy to use, feature rich platfrom, with:
Email program (Gmail)

Calendar synchronisation – aligned with Google Calendar

Streamlined address book – built from Google Contacts

Document and office suite – utilising Google Docs

resource hub
All of these elements combine to make communication, whether it's in office or with customers, as simple and stress free as possible.
Additionally, Elders Unify can act as a hub for all of the materials that are supplied to your business by Elders Real Estate and your franchise manager. This is the most effective way to keep everything up to date and stay on top of training and events, new resources and marketing materials.
Elders Unify is also completely cloud-based, meaning that you can access much of your business's mission-critical information on the fly and away from the office.
Elders Xero
The second solution that can help you run your Elders Real Estate franchise is Elders Xero. In efforts to amalgamate the banking, accountancy and finance needs of our franchisees, we needed a unique approach. To that end, we have partnered with a selection of industry leaders to create an easy to use, highly efficient solution.
Thanks to support from businessDepot, Macquarie and Xero, our tightly integrated solution means that you will spend less time sitting in front of a computer and more time focussed on growing your venture.
With a helping hand from the triumvirate of industry leaders, Elders Real Estate has developed its solution to a level which will leave you assured that you're getting the highest quality enterprise technology without the inflated costs.
Along with people, profitability and wealth, technology forms one of the main cornerstones that we believe go into all successful businesses. If you choose to pursue a franchise with Elders Real Estate, we can guarantee that those strong foundations will always be honoured and used to underpin the success of your endeavour.
Elders MyDesktop
MyDesktop is our groups sales & marketing engine. It helps provide the following benefits;
Bulk Portal Uploading
Capable of loading to over 30 portals, including the industry leading ones such as
Elders

realestate.com.au

Domain
Elders also have agreements with the following portals, offering your clients additional exposure;
TheHomePage

Rent.com.au

Homesales.com.au

Farmbuy.com.au.
Database Management
Organise and manage listing and clients within your business. Automated Communication, Set reminders, follow up plans and diary notes to easily keep on top of contact with your clients.
Direct Marketing Campaigns
Implement direct marketing campaigns to clients via email, mail, SMS, and/or MMS.
Mobile
Access Elders MyDesktop anywhere you can access the Internet, and with native iPad, iPhone, and Android apps, you now have unsurpassed flexibility.
Integrated
An absolute focus of Elders is to bring about efficiencies through the removal of duplication of data.

Core integration currently supported by MyDesktop includes;

listing statistics and email enquiries from supported portals;

calendar and contacts with Elders Unify