Training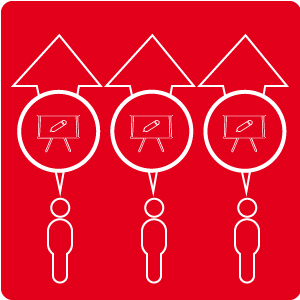 At Elders Real Estate, we know that the number one thing that makes our business tick is people. We invest heavily in anyone we work with to ensure that he or she is ready and prepared for continued success.
By providing training of the highest standards, we equip our people with everything they need to excel.
High Performance Leadership
In 2013, we developed a scheme to invest in Elders business owners and haven't looked back since. Our High Performance Leadership programme has resulted in a number of success stories, all of which are centred around our franchisees improving their bottom lines while also heightening their employees' suitability.
This is ultimately achieved through collaboration. Once a month over the course of a year, we set up seminars when all of our business owners come together and collaborate to benefit each other.
In total, there are 30 modules to be tackled. While the individual style, goals and characteristics of each business owner may vary, we have found that this mixture of cooperation and learning is a powerful ally in the hunt for increased success.
The best enterprises thrive when their people are at the top of their game and act faster and more efficiently than their peers. Our High Performance Leadership scheme can give you the tools, methods and materials to make sure that your business is successful and sustainable long into the future.
Each session will give you a specific idea of how you can improve now, making it easier to get better results going forward. Any of these recommendations can then be applied across your business and hold the potential to make you a market leader in your respective sector.