Elders Real Estate NT teams win big at REINT Professional Excellence Awards
Elders Darwin was justly recognised for their amazing record in innovation and property management at the long-awaited 2020 Real Estate Institute (NT) Awards for Professional Excellence.
In a year that saw widespread disruption across the country, Elders is proud to announce that they took home four prestigious awards. These were:
REINT Property Management Team of the Year – Elders Real Estate Darwin & Palmerston
REINT Property Manager of the Year – Rachel Baldock
REINT Operational Support Person of the Year – Ping Zhou
REINT Innovation Award – Elders Real Estate
Belinda Connor, Head of Residential Real Estate at Elders says that the awards are a tribute to the hard work and superb talents of the multi award winning team. "Given the disruption to our market conditions during the year, innovation was critical to ensuring we offered cutting edge technology to deliver results for our clients."
"Our Northern Territory agents and property managers displayed agility and adaptability during a challenging period, pivoting quickly to embrace and implement the Elders innovative suite of virtual sales and PM tools"
David Oliver, Real Estate Sales Manager for Elders Darwin, was equally proud of the Elders property management team, who took gold in both the individual and team awards.
"Property Management is one of the toughest forms of service provision. To be considered the Number One team – aka the 'Industry Best' – is a remarkable achievement and fitting acknowledgement for our magnificent property management team."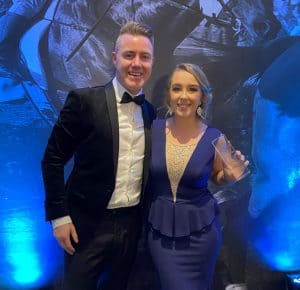 Rachel Baldock's win recognised her commitment to enhancing her already exceptional property management skillset. "It was a superb result to see her win a category filled with a long list of high quality nominations," said David.
Lastly, Ping Zhou's achievement and excitement were one of the high points of the night, exemplifying the passion and enthusiasm that she brings to her support role
These wins cap off a hugely successful year for the entire Elders Northern Territory network after Elders Real Estate Katherine, headed by visionary leader Alison Ross, took out the prestigious award for 2020 Small Residential Agency of the Year in the Real Estate Institute of Australia Awards for Excellence earlier this year and were finalists in the 2020 National REIA awards on Saturday 5 October.